PRESIDENT'S MESSAGE
Thank you for supporting our NCBW West Palm Beach Chapter events. We have had several very successful events in the last few months.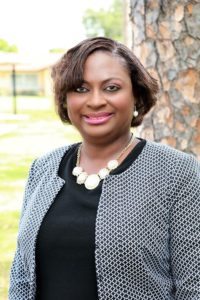 Thank you to our Economic Empowerment Chairpersons (April Grant & Charlotte Leonard Price) for a successful My Sisters Keeper Conference. Attendees were able to shop with our small business vendors, as well as hear from our experts in the area of economic empowerment.
We also hosted our Inaugural Women's Empowerment Cruise. Thanks to the Leadership of Tammy McDonald and Cheryl Haywood. Here are a few comments from a conference attendee, "Each presenter was different in their delivery style however, the information was definitely delivered deep down into my heart and because of it my mission to grow, inspire, and learn has reached yet another level! Kudos to each presenter and to the committee for selecting such Great Presenters!". Join us next April, for our 2nd Annual Women's Empowerment Cruise.
"It Takes a Village" as stated by First Lady of the United States Hillary Rodham Clinton to raise our children and our Education Committee agrees. Thank you to our co-chairs, Dr. Tunjarnika L. Coleman-Ferrell and Dr. Kia Allen Jefferson for planning and facilitating our Inaugural STEM Retreat for middle and high school girls. This event would not have been successful without the partnership and sponsorship of Palm Beach State College and Florid Power & Light. A special that you to our workshop presenters.
We are looking forward to finishing our year strong. So, I ask you to join us for our Human Trafficking event on Friday, May 11 and our Celebration of Generations Gala on June 9. See below for more details.
Yours in Sisterly Love,
Rhonda D. Rogers
Chapter President
Upcoming Events:
May 11, 2018 – NCBW Fights Back Against Human Trafficking – Salvation Army
June 9, 2018 – NCBW Honoring Women in Health Care – Palm Beach Airport Hilton (Majestic Ballroom)