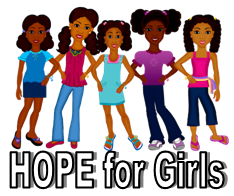 HOPE for Girls is a leadership mentoring program for young ladies in grades 6th- 8th that focus on personal growth and leadership development, cultural enrichment, and social development.
Our plan is to equip and prepare young ladies to live a productive and positive life by offering enriching experiences and opportunities to further recognize their potential for success. Some of the anticipated activities for the year include social etiquette, empowerment, personal development, health/fitness/nutrition, decision making that counts, financial planning, social media and getting involved.
The other initiatives under Education & Mentoring are:
STEM Retreat to expose students to careers in the STEM (Science, Technology, Engineering and Math) fields.
College Scholarship Opportunities
UPCOMING EVENT
The National Coalition of 100 Black Women (NCBW) 3rd Annual Careers in STEAM retreat targeted for girls in grades 5th –8th with the intent to pique their interest in science, technology, engineering, art/agriculture & mathematics careers.
Watch our 2019 recap of the 2nd Annual Careers in S.T.E.A.M.
This free collaborative event is in association with Palm Beach State College, Max M. Fisher Boys & Girls Club and NCBW West Palm Beach Chapter requires registration.